Rutgers School of Dental Medicine opens state-of-the-art center, thanks to late Australian entrepreneur Georges Sara.
When Jessica Mitri's father, Australian digital dentistry technology entrepreneur Georges Sara, died in a New York City hospital in November 2020, she was buoyed by support from an unlikely place—the Rutgers School of Dental Medicine.
Sara, 56, had become ill with COVID-19 soon after arriving in the United States that summer. He was there to complete a three-year project—the creation of a state-of-the-art digital dentistry center at Rutgers. Sara and his Australian company Stoneglass Industries had donated $1.3 million in equipment and software, along with countless hours of education and training for Rutgers faculty and students. But when the center finally opened in September 2020, Sara was in the hospital, fighting for his life.
"When [my father] did pass, my personal Instagram page blew up with students contacting me from Rutgers," Mitri remembers. "I was getting emails saying, 'Jessica, we found out about Georges. We can't believe it." The students recalled how Sara showed them photos of his grandchildren and told them what Mitri was up to back in Australia before he started teaching. "It was just so heartwarming," says Mitri, now head of operations at Stoneglass.
Despite his tragic passing two years ago, Sara's legacy is alive at the Rutgers School of Dental Medicine, where the now-named Georges E. Sara Digital Dentistry Center honors his innovation and generosity. The gift of the center was one of the largest in-kind donations in the history of the school, and it stands as a shining example of Rutgers' position at the forefront of dental medicine. But it wouldn't have been possible anywhere else, Mitri says, or without a series of serendipitous connections between like-minded dental experts.
"The relationships that my father built with the staff at Rutgers, and the belief that they had in him and what a prosthetic design center could do for the students and the patients," Mitri says, "that was the difference."
A family affair
It all started with spaghetti and meatballs.
Back in 2017, Rutgers periodontics professor Howard Drew and his wife, Ina, invited Georges Sara for dinner at their home at the suggestion of their son, Alex. While Alex Drew was chief resident of the Columbia University dental school's prosthodontics department, he used Sara's Stoneglass digital dentistry tools. Alex Drew thought his father—and Rutgers—should also get to know the entrepreneur.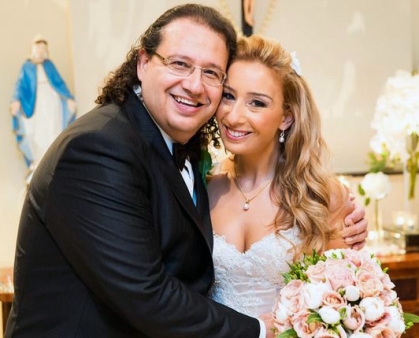 Over Italian food and wine, Howard Drew instantly connected with Sara, whom he described as "a larger-than-life character," with long curly hair and an effervescent personality. But Drew was equally impressed with Stoneglass technology, a host of thoughtfully designed tools meant to complement, rather than replace, traditional dentistry techniques.
Drew learned that Stoneglass technology positioned traditional dental techniques as the foundation of its process to produce partial and complete arch removable and fixed prostheses. This analog and digital synergy—including scanners, 3D printers, and a software suite—was especially appealing in the university setting. That's because try-in prostheses could be designed and fabricated in-house to create a fully individualized prosthesis. (While typical dental prostheses come in standard sizes, with only certain colors available for teeth, Stoneglass equipment can produce more aesthetically pleasing implants because of its customization capabilities.)
Sara had created a system for clinicians that provided prosthetic support and guidance from engineers, technicians, and clinical specialists to ensure that even the most complex cases found solutions. "This was mind boggling, miles ahead of your average dental laboratory," Drew said.
Drew introduced Georges Sara to Heba Elkassaby, now director of digital dentistry at Rutgers School of Dental Medicine.
The future of dentistry
Elkassaby quickly understood the educational potential of Stoneglass technology. Using the Stoneglass system to design and fabricate dentures digitally would enhance students' ability to analyze tooth arrangement and occlusion, she realized, and it would also give Rutgers' dentists-in-training access to the latest tools in dental technology, such as 3D printers.
"3D printing technology has been proving itself in dentistry recently in many applications… and there are ongoing advances in this technology," Elkassaby says. "The future of dentistry is moving toward using digital technology in every aspect."
Rutgers School of Dental Medicine Dean Cecile A. Feldman also recognized the possibilities of the Stoneglass partnership. "Like in all aspects of life, technology is greatly benefitting our field, and this collaboration has brought us to the forefront of digital dentistry," said Feldman. "The center enables our students and faculty to get hands-on experience using the latest tools and techniques, which they then can employ in patient care."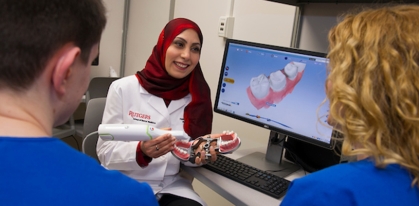 Elkassaby worked closely with Sara—the two bonding over their similar backgrounds and sometimes joking in Arabic—on the details of the partnership. Part of Sara's gift was to install Stoneglass software on dental students' tablets. This meant students could learn Stoneglass technology in the simulation lab and practice with it at home before entering the dental clinic.
The Sara Digital Dentistry Center has 23 workstations, three 3D printers, and three laboratory scanners. Stoneglass prosthetic technology became part of the school's curriculum when the center opened in 2020. Students can use the technology to design complete dentures digitally. Postdoctoral students can also design implant-supported fixed prostheses.
"Because of this center, we now have the technology to teach and fabricate digital complete dentures," Elkassaby says. "Most dental schools have some technology for fixed restorations, but only a few schools nationwide [including Rutgers] have the digital technology for removable prostheses."
Rutgers dental graduates will long reap the benefits of their digital dentistry skills, whether their future career involves using Stoneglass technology, Elkassaby says. Once students have mastered computer-aided design and computer-aided manufacturing (CAD/CAM) with Stoneglass technology, they will have skills needed to learn other such programs.
In the meantime, Rutgers students who gather in the Georges E. Sara Digital Dentistry Center pay homage to the man who lent it his name by designing and manufacturing prostheses with Stoneglass technology. "One of the patients was dancing in the clinic last week after she got her dentures," Elkassaby says with a smile. "She showed her dentures to everyone in the clinic, and she was dancing because the outcome was so nice."
Support Excellence
Make a gift in support of digital dentistry at the Rutgers School of Dental Medicine.