Charles "Chuck" A. Wright III, an experienced fundraiser committed to diversity, equity, and inclusion, takes the lead as Rutgers–Camden's vice chancellor for advancement.
Charles "Chuck" A. Wright III beams when talking about his new role leading fundraising and alumni engagement efforts at Rutgers University–Camden. "I love the focus here on underrepresented and first-generation students," Wright says. "These students have big dreams and they go after them. To be able to support their dreams is exciting."
Wright began his tenure on May 15 as Rutgers–Camden's vice chancellor for advancement and as a Rutgers University Foundation vice president for development, which includes serving on the Foundation's executive leadership team. His career path has included leadership roles in higher education fundraising at The College of New Jersey, Peirce College, Villanova University, and Widener University.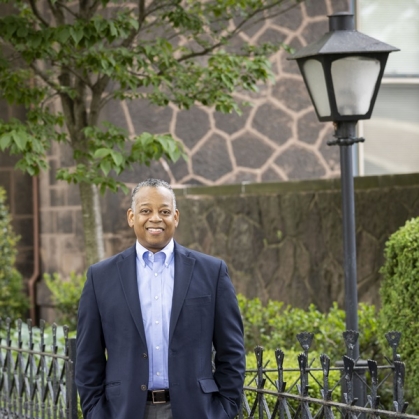 "Chuck is a consummate fundraising professional, known for his warmth and ability to connect with people," says Kimberly A. Hopely, Rutgers executive vice president for development and alumni engagement and president of the Foundation. "With decades of experience in higher education advancement and nonprofit development, Chuck is a proven leader with strong relationships in Philadelphia and South Jersey."
Rutgers–Camden Chancellor Antonio D. Tillis says, "He is the ideal leader to advance our university's priorities in annual giving, alumni engagement, and corporate relations. He is a proven innovator who will engage our network of more than 55,000 alumni—along with our nonprofit and corporate partners—in ways that enhance the academic excellence of Rutgers–Camden while promoting educational access and successful outcomes for our students."
Previously, Wright served as chief development officer at Philabundance, where he drove the Philadelphia-based hunger relief organization to exceed its annual fundraising goal with months to spare in the fiscal year. "I am truly grateful to Chuck for his incredible work this past year at Philabundance," says Loree D. Jones Brown, CEO at Philabundance and a former chief of staff at Rutgers–Camden. "As the region's largest hunger relief organization, fundraising is a critical part of the work we do, and Chuck helped to put our team into an even stronger position moving forward. We wish Chuck all the best at Rutgers and are happy he will be a partner already working with Philabundance to provide food to the community, including the pantry at Rutgers–Camden."
A native of Pittsburgh who graduated from Villanova University in 1990, he worked for his alma mater in admissions and then development roles, ultimately serving as Villanova's associate vice president for development. His most recent higher education role was at The College of New Jersey as chief development officer and associate vice president for college advancement.
Wright has long been committed to advancing diversity, equity, and inclusion in higher education, and often has mentored professionals of color who work in advancement roles. "Inclusion needs to be embedded in everyday life," he says. "I think it's important to be open and inclusive in conversations and invite folks to the table who may have different opinions."
In 2020, the Council for the Advancement and Support of Education (CASE) District II Board honored his efforts by creating the Charles A. Wright Opportunity and Inclusion Award. The annual award recognizes advancement professionals who display leadership in fostering inclusion and diversity within the profession, on their campus, or within the surrounding community.
At Rutgers–Camden, he follows Endia DeCordova in the vice chancellor for advancement role. DeCordova has been named Morgan State University's vice president for institutional advancement and executive director of its foundation.
Wright says he was excited that his first day at Rutgers–Camden coincided with commencement ceremonies celebrating the Class of 2023. He says he plans to meet with as many Rutgers–Camden alumni as possible as he digs into his new role. "I'm really looking forward to engaging them in the life of the institution," Wright says.
Make a Difference
Find an area to support that you care about: access to college, health care, innovative research, arts, sciences, and more.