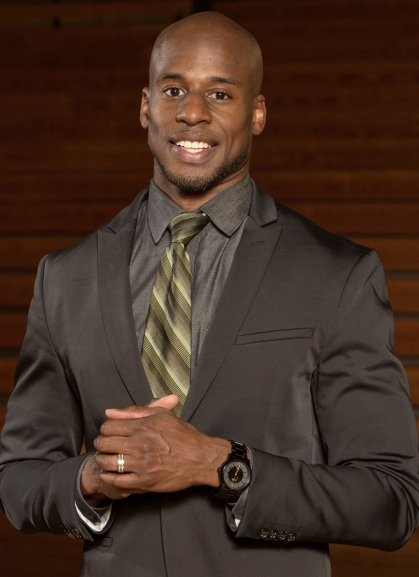 NEW BRUNSWICK, NJ—Former Scarlet Knights football co-captain and Rutgers fundraiser Shawn Tucker is returning to the university as vice president for athletics development at Rutgers University Foundation. Tucker currently serves as associate vice president and director of athletics at New Jersey City University (NJCU). He joined NJCU in 2018 after a succession of positions at Rutgers, starting in 2007 and culminating in a five-year tenure as associate athletic director of student-athlete development.
In his new role, Tucker will lead a comprehensive fundraising program and a team of professional staff that supports Rutgers Athletics' priorities through engagement and stewardship of the university's donors and more than 550,000 alumni. Additionally, he has been appointed by Athletics Director Pat Hobbs to serve as a deputy athletic director. He will bring his demonstrated record of success and commitment to providing leadership, strategic direction and oversight to athletic fundraising, managing relationships with the university's most generous supporters.
"I'm beyond thrilled to be back On the Banks," said Tucker. "There's nothing like coming home. We accomplished great feats at NJCU and transformed our athletics department into one of the fastest growing Division III programs in the country. I'm looking forward to this wonderful opportunity bringing back the leadership and management experience I've gained over the past four years.
Tucker rejoins an invigorated university. Emerging from the COVID-19 pandemic under President Jonathan Holloway's leadership, the university has recommitted itself to its mission through new programs to enhance college access, life-changing research, and an expanded mission of service to New Jersey's communities and people.
"Shawn is the right leader at the right time," said Kimberly Hopely, executive vice president for development and alumni engagement and president of Rutgers University Foundation. "He brings energy, integrity, and a rare combination of talents. He's a gifted fundraiser, tireless advocate for students, a dynamic leader, and a tremendous human being."
Tucker's association with Rutgers has been long and successful. After co-captaining the iconic 11-2 2006 Scarlet Knights football team under coach Greg Schiano, Tucker went on to hold progressively responsible professional roles at the university, including positions with the Office of Continuing and Professional Education and with Rutgers Athletics, where he served as administrator of the gymnastics program and as a fundraiser.
Rutgers Athletic Director Pat Hobbs said, "I'm delighted that Shawn is returning to the banks to join our team. He brings great talent and will be a role model to all of our student athletes about the limitless possibilities a Rutgers education provides. He will be an invaluable addition to Rutgers and will play a pivotal role with our dedicated community of alumni and donors."
Scarlet Knights Football Coach Greg Schiano said Tucker will be an asset.
"Shawn was a huge contributor to our team's success in the early 2000s, and I know that he'll be a huge contributor now," Schiano said."We have ambitious goals for our football program, and I know that's true of every sport at Rutgers."
Tucker said, "It's an amazing era at Rutgers and a fantastic time to rejoin the team. President Holloway's leadership already has been transformative, and there is incredible excitement about all of our Scarlet Knights teams achieving new heights in competition. I look forward to reconnecting with many of the impassionate supporters and establishing new, fruitful connections to our great institution. The future of Rutgers is unquestionably bright and its truly an honor to play a pivotal role in this great chapter of success!"
Support Student-Athletes
Support Rutgers student-athletes by making a gift to athletic scholarships, leadership programs, or facilities.
Give to Athletics