Usage and expenses are on the rise for the Rutgers–Newark student food pantry.
As grocery prices have increased in 2022, so have the numbers of students turning to the food pantry serving the Rutgers University–Newark community. "We've had a lot of new users," says Hend El-Buri, director of PantryRUN. "Many are people who have never needed to ask for help."
El-Buri says the cost of eggs has almost doubled, partly due to inflation and partly due to the bird flu outbreak, and that milk has also increased dramatically. "There are more people who suddenly are experiencing pain at the supermarket," she says. "Some people are realizing, 'Oh my gosh. We have to cut back on something.'"
The average number of students picking up food at PantryRUN has increased to about 275 per week, near pre-pandemic usage, and up from 175 per week in 2021. In November alone, the pantry provided food for 1,200 students. The pantry strives to destigmatize using a food pantry, which allows students to place orders online and pick up their packages instead of standing in line. The pantry has averaged about 160 new users per month over the last three months. El-Buri says she's happy to see more students benefitting and she expects that usage is likely to continue to rise.
In addition to providing food to students, the food pantry also assists students who are eligible in signing up for New Jersey's Supplemental Nutrition Assistance Program (NJ SNAP). "We know that about 18 percent of students are eligible for SNAP, but only about three percent are utilizing those benefits," she says.
As costs for shoppers have gone up, so have expenses for the pantry. In addition to more overhead for eggs and milk, the pantry now pays more for popular items such as cereal and garlic. Although a campaign to raise funds for all four Rutgers food pantries ended successfully in November with more than 600 financial gifts, the need to help more students facing food insecurity remains. "We greatly appreciate the support that we received from our alumni and other donors in the Stop Student Hunger campaign," says Robin Semple, vice chancellor for development at Rutgers–Newark. "The need to support our students struggling to feed themselves and their families continues year-round, especially in light of the high cost of groceries."
In addition to the Rutgers–Newark pantry, which opened in 2017, three other food pantries serve Rutgers students: the Rutgers University–Camden Raptor Pantry, the Rutgers–New Brunswick Student Food Pantry, and the Rutgers Biomedical and Health Sciences (RBHS) Food Pantry at Newark Health Sciences.
You can donate to each of the four Rutgers food pantries at give.rutgers.edu/foodpantry.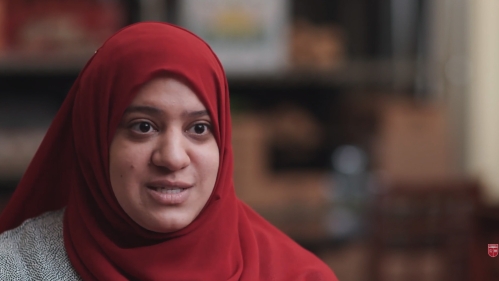 Rutgers Food Pantries: Stop Student Hunger
Supporting Students with Food and More
Yolenni Torres, a graduate coordinator for the Rutgers–Newark pantry, has lived on campus as a student since 2018. Having earned her bachelor's degree in public and nonprofit administration in 2022, she is pursuing a master's degree in public administration. She says the pantry fills an essential need she can speak to firsthand. "I've experienced food insecurity, and I know students here who have experienced food insecurity," Torres says.
Torres works on spreading awareness of the food pantry and helping it fulfill goals beyond assisting students in meeting their basic nutritional needs. El-Buri says other pantry goals include educating students on food literacy, building community, and food sustainability. A recent well-attended event Torres helped with focused on educating students about cultural differences in foods. "It was nice to see all of the diversity," Torres says.
The pantry also fulfills a vital role in supporting students in other ways. El-Buri says in addition to helping students access NJ SNAP benefits, they provide support in other ways, such as providing free menstrual products to students through a partnership with the Girls Helping Girls Period organization. In addition, the pantry staff can identify students in crisis and connect them to the Rutgers–Newark Campus Awareness Response and Education (CARE) team program. "If we learn a student is living in their car or had a fire at their house, we'll find a way to make sure they get support and have three meals a day."
The PantryRUN is a partner of and a neighbor to the JBJ Soul Kitchen, which reopened in October. The Jon Bon Jovi Soul Foundation originally opened the restaurant in January 2020 in collaboration with food service provider Gourmet Dining and Rutgers–Newark. JBJ Soul Kitchen shares the food pantry's mission of fighting food insecurity on the Rutgers University–Newark campus through donations and volunteer service and donates storage space to the food pantry. El-Buri says the pantry often refers students to the JBJ Soul Kitchen and plans to make certificates available for vulnerable students to eat there. "It's a very dignified, pleasant experience for the students," she says.