Alumni Joe and Barbara Schenkel's lifetime of giving to a variety of Rutgers University causes includes donating a shell to the men's crew program.
Rutgers University alumni Joe and Barbara Schenkel have been giving to their alma mater every year for more than half a century. "We used to give small gifts in the beginning, when we were young and didn't have a lot of money," says Joe RC'63, a retired psychologist.
Over the years, the Schenkels, natives of northern New Jersey who met as Rutgers students, donated to a variety of areas, complemented by Joe's commitment as a volunteer. They supported the Rutgers–New Brunswick Arts and Sciences Dean's Fund, a tribute to Joe's service as a member of the then-Rutgers College Dean's Committee. They also contributed to the Rutgers University Press, where he acted in an advisory capacity.
Having given to the university every year for more than five decades, they stand among an elite group of donors in the Rutgers Loyalty Society. This program recognizes donors who have made a gift to the university for the past two or more consecutive fiscal years.
During the 1980s when Joe began exploring giving options for athletics, he found his way to the one that can be viewed from the banks of the Raritan. "I was looking around for a sport that I wanted to support, one that embodied things I admire, and came up with crew," he says. "Rowing was the first organized sport at Rutgers." (Crew began at Rutgers in 1864, five years before Rutgers and Princeton held the first college football game in New Brunswick.)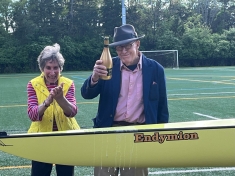 Schenkel's continued support of the program over the years earned him a spot on the Board of Trustees of the Friends of Rutgers Crew Association. Although he has decades of experience sailing, he did not participate in crew at Rutgers and is the board's only "non-oarsman."
In May, the Schenkels underwrote a boat named Endymion for Rutgers Crew. "It was wonderful because Joe is really committed to crew and he is delighted that we were able to do this," Barbara says.
Joe and Barbara's giving over the years has gone to causes they value, and that has been their approach to finding Rutgers programs to support. "If you have an interest in something, you seek it out," Joe says. "You look around and say, 'That's interesting and that's important. Maybe I can help.'"
(Exploring causes and ways to give at Rutgers has become easier with the launch of a new giving site at give.rutgersfoundation.org that organizes ways to give under the Rutgers values of access to education, building community, and common good.)
An Appreciation for Rutgers
Almost sixty years after graduating from Rutgers, the Schenkels live in Maine and value the quality of the degrees that they earned in New Brunswick which launched their careers. Joe went on to earn a doctorate in psychology from the University of Utah in 1967, served in the Army, and worked as a psychologist for the Veterans Administration. (You can learn more about him in the interview he did with the Rutgers Oral History Archives.) Barbara, who earned a master's of public administration from the University of New Mexico in 1975, worked and volunteered in a wide variety of roles in education, criminal justice, real estate, and art. "I believe I received an excellent education at Douglass," Barbara says.
Turning his loyalty to his legacy, in gratitude for the good education they received and in addition to half a century of annual gifts, Joe has provided for Rutgers in his will. He feels it's important for individuals to contribute to society and pay back—each year, and even after we are no longer here. "If you care about it when you're alive, why would you not, if possible, continue that support after death," Joe says.
Loyal for Life is a series focusing on members of the Rutgers Loyalty Society who have given to the university for many years.