Across the globe and over five decades, Rutgers School of Nursing alumna Jane Coury has leveraged her love of public health to help others battle illness, neglect, and environmental dangers. Above, Coury shares yearbook memories with her daughter Marissa. 
Like many who find their true love at college, Jane Coury found hers at Rutgers: public health nursing, with a focus on maternal and child health.
Her Rutgers nursing degrees became her passport to a life of adventures in faraway places: Partnering with the Minister of Health in Egypt to reduce the nation's high smoking rate and reduce maternal childbirth deaths. Researching Navajo medical records to qualify them for settlements in a class-action suit against uranium mining. Pioneering a program that provided public health services in a high-crime area at a facility converted from a brewery.
"I didn't even know I wanted to be a nurse," says Coury, who grew up in Lansford, Pennsylvania, and later earned her bachelor's in 1973 and her master's of nursing in 1978 from the Rutgers School of Nursing in Newark. "After high school, I didn't know what I wanted to do. My father got me a job in a clothing factory when I was quite young, which all the ladies did in my hometown, and I was so terrible, the guy threw me out after the first day. I had also failed as a secretary."
College was unaffordable for her, so in the mid-1950s she enrolled in a nursing diploma program in nearby Reading, which set her on a path around the world. After completing the program, she shook the dust off her heels from the Pennsylvania coal mines and set off to New York with three fellow nursing students, settling in at Columbia Presbyterian Medical Center, part of Columbia University, where she was assigned to a medical surgical floor and evening shift. "We went to New York City—the four of us—can you imagine?" she says. "Four little kids. I was still wearing dresses with puff sleeves, for God's sake."
From Columbia, she went to Yale, serving as a nurse at the New Haven Medical Center. Then she and two new friends decided to go to California. "We were in a Volkswagen Beetle, no air conditioning, driving through the Mojave Desert until a policeman stopped us," she says. "He could tell by the way we were weaving that we were in bad shape."
Finding an influential mentor at Rutgers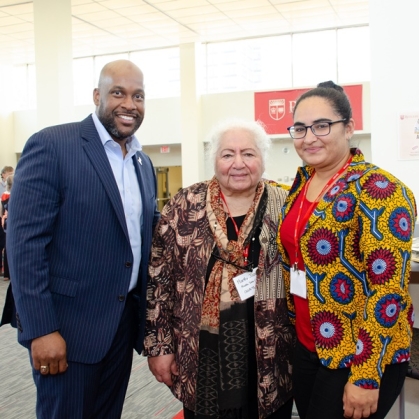 After several months in California, Coury realized she had gone as far as she was going to go in the nursing profession without a degree. So in the early 1970s, she arrived at Rutgers in Newark to pursue a bachelor's degree in nursing. "Like many diploma nurses at the time, we were well trained. However, without the baccalaureate degree, you could not advance. I was working as a head nurse but was not allowed to have the title or the salary. And after years of convincing myself I didn't need a degree, I came to face the fact that I did need one."
She found an amazing faculty mentor at Rutgers. Hildegard Peplau, who created the first graduate program for clinical specialists in psychiatric nursing, suggested public health nursing. It was a perfect fit. Coury began working in a clinic in the central ward of Newark that had a 40 percent no-show rate. She reasoned that if patients won't come to the clinic, we'll take the clinic to the patients.
"We would go from apartment to apartment and provide the care our patients needed in their own apartments," she says. "You have to understand where people are, meet them where they are, and respect them and their situation."
An exceptional career
Coury's career highlights include helping formulate national health and safety standards for children in out-of-home care developed by the American Public Health Association and the American Academy of Pediatrics, which became the standards in every state in the nation. She worked at the Maternal and Child Health Bureau, Head Start, and the National Institutes of Health. Her work brought her in touch with high-level government officials like former Secretary of Health and Human Services Donna Shalala and former Secretary of the Interior Stewart Udall. She also met with and provided health care services to the famous Navajo code talkers from World War II.
Having served in the U.S. Public Health Service for 30 years, she was eligible for retirement in 2008. But since she's "not good at knitting and crocheting," she pursued a job with the National Institute of Allergy and Infectious Diseases in their global health unit. Through this position, she traveled to the Middle East, North Africa, and parts of Eastern Europe.
Most recently, Coury, who lives in Washington, D.C., traveled back to Rutgers. "I was glad to see the tremendous progress that's been made at the university, the campus, and the new learning lab," she says. "None of that was there when I was there."
Coury says she's lucky to have had people help steer her in the right direction. At age 80, having retired only recently, she looks back on how it all started, in her diploma program.  "I had no concept of what it meant to be a nurse. But by about the third month, I thought, 'Oh my God, this is what I want to do—I'm so lucky.' I fell in love with public health nursing and the idea of meeting people where they were, providing services, being respectful, understanding what they must be going through. And that was due to Rutgers."
To support the Rutgers University School of Nursing, click here.