Alumni Ted and Diane Hardies have given to Rutgers every year for more than 50 years.
Theirs was a match made at Rutgers.
Theo "Ted" Hardies and Diane Seeley Hardies met in the mid-1960s during his sophomore year, dating off and on for a while before getting serious in his senior year. As he approached graduation in the spring of 1966, Ted (who would later rise to the rank of colonel in the U.S. Army and serve in Vietnam) invited her to the Military Ball and proposed. They married that summer, embarking on their now 57-year union and a more than five-decade streak of supporting Rutgers.
Ted RC'66 and Diane DC'68 belong to a special group of alumni who have made donations every year for the past 52 years. Their giving record is a point of pride, one they hope will become contagious. "We are proud to have given for more than half a century, and we hope that we inspire the graduates who come after us to give back to Rutgers," he says.
Happy times in a tumultuous decade
In 1962, Ted stepped onto the Rutgers campus with his sights set on becoming an engineer. But he had a math problem. "For several reasons, probably being away from home and not studying as much as I should have, I did not have calculus in high school, and calculus was a big deal," he says. "So I switched to economics."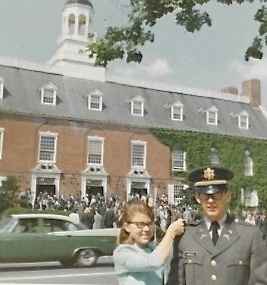 After completing two years in the ROTC program, which previously had been mandatory but was now voluntary, he decided he liked the experience and signed up for two more years. "When I graduated I received a regular Army commission," he says. "I was a distinguished military graduate and went on active duty that summer, never thinking I was going to make it a career." (Col. Theo F. Hardies, as he is formally known, retired after 33 years).
Meanwhile, across campus at Douglass College in 1963, his future wife Diane planned to become a doctor, until she hit organic chemistry. She switched her major to medical technology but then dropped out in 1966 after marrying Ted.
"I knew he was going to Vietnam in 1967 and wherever he was going before that, I was going with him," she says. "When he went to Vietnam, I went back to Douglass and Dr. (Hazel B.) Gillespie, bless her heart, allowed me to switch my major again and I ended up with a degree in microbiology."
The late '60s, Diane recalls, "were tumultuous times, to say the least. People have said that they hated their college experience. I feel bad for them because college was a blast. And it should be, it should be a fun time."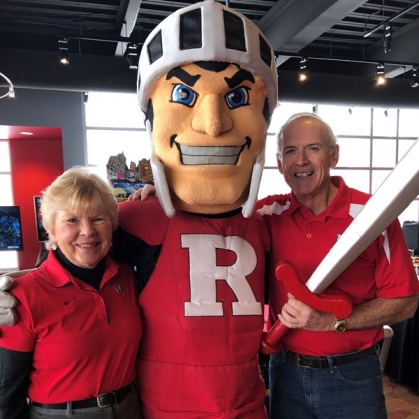 Because of the wonderful memories and the excellent education they received, Ted and Diane have supported their alma mater consistently over the years. Their gifts as newlyweds started out small and grew over time, as Diane joined the workforce and earned a paycheck.
Ted's Class of 1966 carries a point of pride as the 200th anniversary class. In celebration of it during the Rutgers 250th anniversary celebration in 2016, he helped lead compilation of a yearbook of their class history and gave copies to university leaders, the Rutgers University Libraries, the Oral History Archives, and others. Also in the library are recordings of Ted's interviews as he participated in the university's oral history archives. He served as chair of the Rutgers Living History Society and is now on the executive committee.
The couple returns to campus regularly for events, including football games and wrestling matches. They are football season ticket holders with seats on the 50-yard line, and Ted also has wrestling season tickets. "We love screaming our heads off!" Diane says. "GO KNIGHTS!"
Loyal for Life is a series focusing on members of the Rutgers Loyalty Society who have given to the university for many years.