Two new scholarships foster careers in health care and health sciences for Rutgers Law School students in Newark and Camden.
When Gigio K. Ninan and Kanwar S. Kelley studied at Rutgers Law School in Camden slightly more than a decade ago, the two hungry students frequented the Palace of Asia restaurant in Cherry Hill. It was there that they discussed their medical malpractice litigation class while feasting on tikka masala, palak paneer, and warm garlic naan at the $12 all-you-can-eat lunch buffet.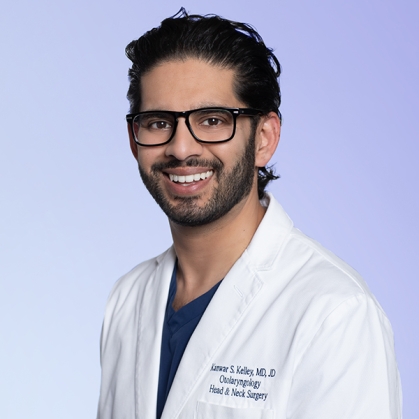 Ninan CLAW'11, a New York attorney who often represents medical practices and pharmacies, and Kelley CLAW'10, a California physician and entrepreneur, didn't know at the time that these trips to their favorite buffet would be the genesis of a friendship that would span the years. That connection served as the impetus for the Kanwar S. Kelley and Gigio K. Ninan Endowed Graduate Scholarship, awarded to Camden students at Rutgers Law School interested in pursuing a career in health care. "There was some synergy in doing a health care-related scholarship because of the type of companies I represent and the health care tech and medical space that Kanwar works in," Ninan says.
John T. Vaughan III NLAW'02 also had an impactful experience at Rutgers Law School in Newark. A native of Wyckoff, New Jersey, Vaughan now lives in Los Angeles. Still, he hasn't forgotten his Garden State roots or the law school that helped him launch a successful career as a corporate legal officer whose work spans technology, biotechnology, pharmaceuticals, and the medical device industry. Vaughan and his spouse, Jeffrey Darna, an anesthesiologist and research scientist, established the Vaughan-Darna Health Sciences Scholarship, an endowed scholarship for Newark students at Rutgers Law School who intend to pursue a career in health law. "I did that because Rutgers gave me a great education that led me to a successful career," Vaughan says. "I want to make sure others have that chance."
The two endowed scholarships intended for graduates entering the health sciences and health care fields are unique in being established by younger alumni. Alumni often establish endowed scholarships at or near the end of their careers. At 39 and 36, respectively, Kelley and Ninan are among the youngest alums ever to establish an endowed scholarship at Rutgers University–Camden.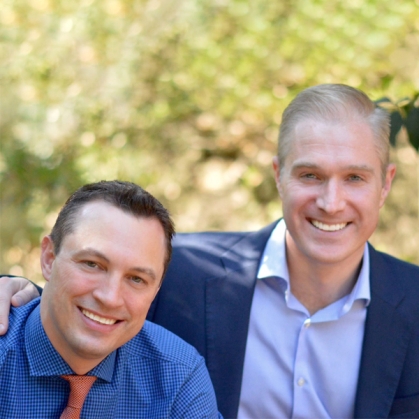 Scholarships that Kelley, Ninan, and Vaughan received as law students are a motivating factor in their gifts to the law school. Vaughan received the Austin Scott Scholarship, established in memory of a former head of the Rutgers College Department of Economics. "This is paying that back with interest," Vaughan says.
Kelley and Ninan both received scholarships offered to Rutgers Law in Camden students. "It meant a lot to me because without that money, I wouldn't have had the opportunity to connect over buffet with Kanwar," Ninan says.
A commitment to New Jersey
Vaughan was inspired to establish a scholarship while attending a Rutgers Law reunion. That's where he bumped into former classmates Kerry Flynn NLAW'03, RBSG'03 and Chris Andrew NLAW '02, and learned they had established a restricted scholarship in 2015. "That opportunity to reminisce with folks and take stock of how Rutgers has contributed to my success was inspirational," Vaughan says.
Vaughan sees his scholarship not only as an opportunity to help students financially but also as a way to invest in New Jersey, which is widely known as "the medicine chest of the world" because of its pharmaceutical and health sciences industries. "I'm proud of being born and raised in New Jersey, and I'm proud of my Rutgers education," he says. "I want to make sure that New Jersey continues to be a life sciences leader and the one way I can do that is to provide this scholarship for health law in the state."
Friends committed to Rutgers Law
Kelley has established a successful Ear, Nose, and Throat (ENT) practice in the San Francisco Bay Area. He is also cofounder of Shingle Technologies, which helps physicians start, manage, and grow their private practices, and Side Health, which provides fully integrated, comprehensive care for people with chronic medical conditions. Kelley says he's proud to make time to support Rutgers Law and encourages fellow alums to do the same. "It's super important to get involved early and, quite honestly, there's never a good time to give financially," Kelley says. "There's always going to be something competing for your financial interests—whether it's buying a house, buying a new car, putting your kids through school—but it's super important at the same time to give back, even if it's a small dollar amount."
Ninan, cofounder and partner of Shankar Ninan & Co., a boutique law firm based in New York, also volunteers his time, serving as chancellor of the Rutgers Law School–Camden Alumni Association. Recently he was appointed to the Rutgers Law School Dean Search Committee. Ninan realizes that not all young alumni can afford to endow a scholarship, but he encourages them to volunteer and participate. "Time and alumni engagement are extremely valuable, and volunteering is a surefire way that younger alumni can pay it forward to our future leaders."